Caitlin is the Hub's Family Support Navigator. If you need help identifying resources, finding information on this Hub Portal, or connecting with supports, Caitlin is just an email or call away. Submit the form below and Caitlin will respond within 24 business hours, or give her a call: 413-579-8297.
You can also hop onto Caitlin's drop-in hours anytime you need one-to-one support or information.
Or join one of our monthly Open Houses to see the Hub in action.
Zoom drop-in hours for one-on-one support:
Monday: 9am-10am
Tuesday: 8pm-9pm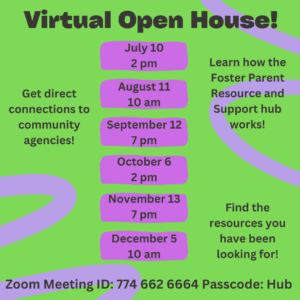 Virtual Open House
Dates for 2023
Want a tour of the Hub with Caitlin? Just drop in to one of our Open Houses by clicking on the Zoom link above whenever there's one going on!
Fill out the form below to reach Caitlin via email: