In December of 2015, AOK's founder, Marianna Litovich had been a foster parent for seven years and had adopted two children through foster care. Seeing a dearth of opportunities to find and network with other foster or adoptive families, she started the "Pioneer Valley Foster and Adoptive Family Association" Facebook group. Within a few weeks, the group grew to more than 100 members, all foster or adoptive parents in the region. The private group allowed users to share stories, support, and information pertaining to foster children or adoption through foster care. Members voiced great appreciation for the ability to get to know one another and to receive both concrete and social support. The group held its first in-person gathering in August of 2016, where 66 individuals gathered for an afternoon of fun and community.
In meeting and talking with attending families, it became clear that the fostering community was isolated – not only from one another, but from the community at large. On the one hand, families involved in foster care tended not to know too many other foster or adoptive families, aside from those they had met by chance or through their MAPP classes (Massachusetts Approach to Partnership in Parenting; required for licensure as a foster or pre-adoptive parent in the state). These families felt in need of a community that understood the unique challenges of foster care. Additionally, families voiced frustration about the  lack of awareness about the foster care system among the general public, the needs of children within it, and the experiences of families involved.
Combining her personal experiences as a foster and adoptive parent, and her professional experience as a community psychologist and researcher, Marianna launched an online needs assessment in January of 2017 to document the challenges of foster and adoptive parenting and members' ideas for ways to ease those challenges.
All Our Kids, Inc. is the response to those needs – an organization that creates community for the purposes of mutual support, raises awareness about the foster care system in our region, and engages the community to become involved in a wide variety of ways. With a founding board of five individuals who are passionate about foster care, we have put together an ambitious plan for a program of services that meets the needs of our diverse community. And we have partnered with many local businesses and organizations to make this a truly collaborative endeavor. We hope you'll take the time to learn more about us.
On our website, you can learn more about foster care in our region, find ways to become involved, read our blog, listen to our podcast, and so much more!
All Our Kids, Inc. is a 100% volunteer-run organization of individuals who are passionate about foster care and adoption, and supporting families involved. Feel free to reach out to any of us!
Marianna Litovich is a parent, community psychologist, and civic-minded organizer. She is often scheming about ways to bring people together, build bridges, and strengthen her community. After a decade as a clinician in the public mental health sector and as a university professor, she now consults with community agencies and state departments to improve their programming in order to better support families with young children in Massachusetts. She is passionate about foster care and adoption, and grew up knowing she wanted to adopt children through the foster care system. In addition to steering All Our Kids through its inception and recent growth, she is also a foster parent ambassador for the Department of Children and Families and is on the board of the Massachusetts Alliance for Families, a statewide advocacy organization for foster parents. In 2016, Marianna and her family were named Massachusetts Foster Parents of the Year. Marianna was the 2018 recipient of the Champions for Children award from the Child Advocacy Center of Hampshire County, and an honoree as part of Business West's 40 Under 40 Class of 2018.
Having now adopted twice and fostered numerous other children, she founded All Our Kids, Inc. in response to the reactions people around her were having: foster and adoptive families felt isolated, the public had a limited understanding of the foster care system, and everyone wanted to do something to make a difference. Marianna lives with her partner, Kelley, and four children in South Hadley, and she will never say no to an invitation for coffee.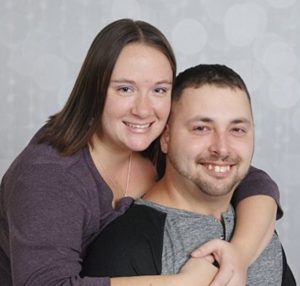 Melissa Barber is a parent, community volunteer, and real estate agent. After a 17-year career in retail management, Melissa opted to move into more flexible work in order to spend as much time as possible with her two preadoptive foster children, a son and a daughter. She grew up with a brother who was adopted at the age of five and has always known she wanted to adopt through foster care herself. Melissa lives in Springfield, MA with her husband TJ, and their children. Over the past two years, Melissa and TJ have fostered 12 children.
Melissa strongly believes in the work AOK does for the foster and adoptive families in western MA, and is grateful for the opportunity to be directly involved in this great organization!
Mary Kate Farley-Dimino loves that she became a parent through fostering and adoption. She currently works in Organizational Development at the Consortium, a well-established human services organization in Holyoke, and she is especially grateful that in this role she's encouraged to bring her whole self, including all her lived experience, to her work. In addition to her development work, Mary Kate loves learning and sharing about the peer-recovery movement, the wonders of neuroplasticity, and the benefits of complementary modalities such as yoga, meditation, and energy work for healing from trauma.
She first connected with AOK through the awesome All Our Kids Connect Facebook group, and believes deeply in the 'people helping people' focus of AOK's mission to, among other things, "enrich community connectedness among foster/adoptive families in Western MA." For fun, friendship, and therapy, Mary Kate enjoys performing in local community theatre musicals, as well as exploring all of our area's natural beauty. She lives in Holyoke with her brilliant and loving 6 year old daughter and their sassy calico cat.
Anthony DeJura is a parent and advocate, as well as a Senior Assistant Director of a non-profit human services organization for adults with developmental disabilities. He is committed to fostering relationships within the child welfare system, and to supporting children and families with different abilities. Anthony sits on the Parent Advisory Board for the Department of Children and Families Western Region, where he uses his experience as a foster and adoptive parent to advocate for needed changes within the system. He lives with his partner, Rich, and their three active boys. He is proud to be a Board Member of AOK and happy to bring his partnering skills to build bridges within the child welfare system.